Ecoraster
Permeable Paving North America
100% recycled plastic pavers, a durable & eco-friendly solution.
Ecoraster Permeable Paving Benefits
Ecoraster is a permeable paving system that allows for natural drainage into the ground without producing harmful stormwater runoff. With German engineering at its core, Ecoraster permeable paving is manufactured in Canada using post-consumer plastic waste and distributed throughout the continent by Ecoraster North America. With the ability to withstand even the harshest of climates, Ecoraster comes with a 20-year warranty that guarantees results in commercial and residential paving projects.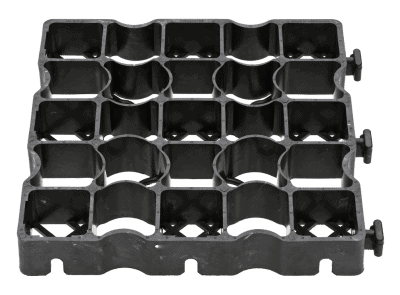 100% post-consumer recycled plastic bags are in every square of Ecoraster plastic grid.
Ecoraster Our permeable paver grids, blocks, and stones are confidently backed by a 20-year warranty.
Ecoraster paving products are proudly made  with the highest of quality standards.
Applications
Commercial / Industrial
Agriculture / Equestrian
Municipal / Transportation
Residential & More

Partnering with interfaceh₂o:
Partnering with interfaceh₂o means receiving honest counsel and collaboration. We are a problem solving company that uses our deep industry knowledge to partner with engineers, architects, contractors, and builders to provide custom solutions for projects. We are your complete partner offering CAD services, project layout, material lists, equipment lists, water testing and monitoring.  
Ready to Get Started?
Give us a call at +1 (616) 931-5584 or send us an email to request more information.