FocalPoint Biofiltration
Sustainable Infrastructure: Modular Biofiltration System
FocalPoint is a scalable biofiltration system combining high-flow rate engineered soils with the a pervious scalable underdrain system constructed for water detention, retention and harvesting.
How FocalPoint Works
FocalPoint ensures functionality, performance and maintainability. Through system components, including a high performance engineered soil blend, FocalPoint uses physical, chemical and biological mechanisms to filter over 80% of TSS, over 60% of phosphorus and over 48% of nitrogen.
FocalPoint has four components that filter stormwater before it enters a scalable, open-cell underdrain system designed to infiltrate and exfiltrate water through its surface.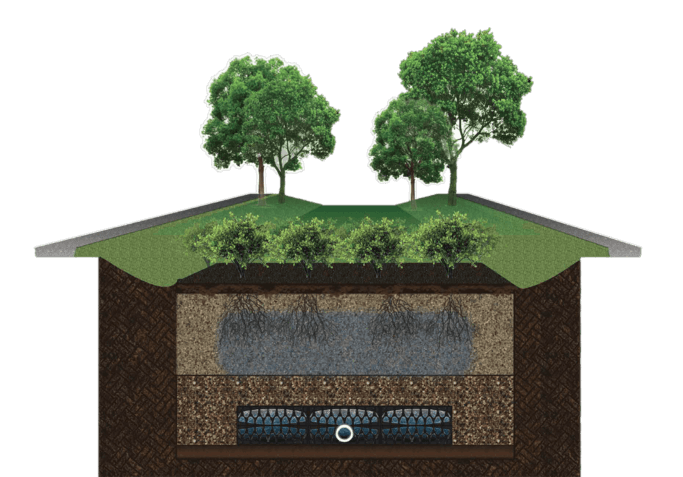 Pollutant Removal Efficiency
Compact size saves valuable square footage
High performance biofiltration enable reduce footprints
Improve system performance—water quality and longevity
Reduced material requirements and cost
Improve property aesthetics and value
Applications
Swales
Urban Sidewalk Planters
Downspout Planters
And More

Partnering with interfaceh₂o:
Partnering with interfaceh₂o means receiving honest counsel and collaboration. We are a problem solving company that uses our deep industry knowledge to partner with engineers, architects, contractors, and builders to provide custom solutions for projects. We are your complete partner offering CAD services, project layout, material lists, equipment lists, water testing and monitoring.  
Ready to Get Started?
Give us a call at +1 (616) 931-5584 or send us an email to request more information.