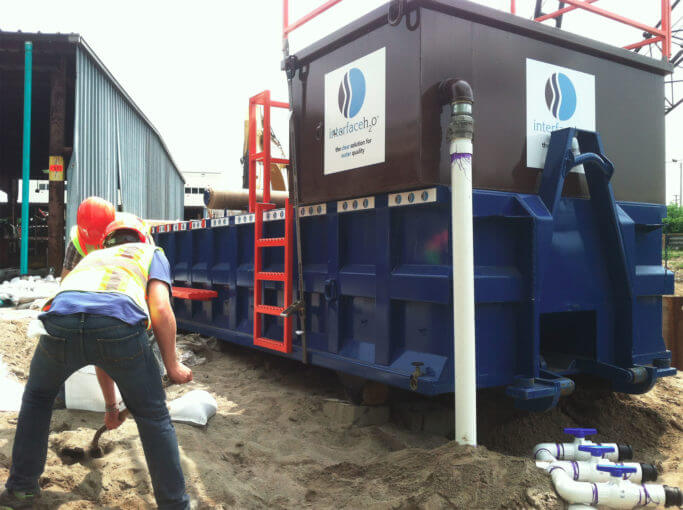 WaterMatrix™
Stormwater Management: Dewatering & Chemical Remediation
WaterMatrix™ is portable treatment equipment that uses environmentally safe flocculation and chelation agents to capture and remove a broad spectrum of contaminants from water.
How WaterMatrix™ Captures and Removes Contaminants
WaterMatrix™ equipment uses flocculation and chelation technology to capture and remove significant percentages of both suspended and dissolved contaminants within water. Fed by either pumps or gravitational flow, WaterMatrix™ units enable efficient polymer introduction, floc/chelate formation and contaminant removal processes within a single, self-contained unit.
WaterMatrix™ is your solution for any turbid water with initial suspended solids concentrations of less than 5000 ppm. Watermatrix™ has a suspended solids removal rate of greater than 90%.
Portable, Permanent & Multiple-Site Applications
WaterMatrix™ is a solution for stormwater, site dewatering and process water applications. The system serves as a portable application for single-site, permanent applications or multiple-site applications.

Partnering with interfaceh₂o:
Partnering with interfaceh₂o means receiving honest counsel and collaboration. We are a problem solving company that uses our deep industry knowledge to partner with engineers, architects, contractors, and builders to provide custom solutions for projects. We are your complete partner offering CAD services, project layout, material lists, equipment lists, water testing and monitoring.  
Ready to Get Started?
Give us a call at +1 (616) 931-5584 or send us an email to request more information.